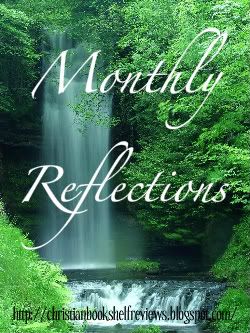 In August I didn't quite make my goal of reading twelve books; I only managed to finish nine but I'm happy with that and I had a blast participating in the Bout Of Books Read-A-Thon with a couple of my amazing blogging friends! :-)
The books I read were:
1. Beguiled by DeeAnne Gist and J. Mark Bertrand
2. Daughter Of Texas by Terri Reed
3. Proof by Jordyn Redwood
4. Escapement by Rene Gutteridge
5. Oregon Outback by Elizabeth Goddard
6. The Wedding Dress by Rachel Hauck
7. Teardrop by Travis Thrasher
8. Into The Whirlwind by Elizabeth Camden
9. River Of Secrets by Lynette Eason
My favorite read:
I really enjoyed all the books I read in August but my favorite would have to be a tie between Proof and The Wedding Dress! With Beguiled and Terdrop also being tied for a very close second! :-)
In September my goal is to read 10 books!
Thanks so much for checking out my reading month! :-)