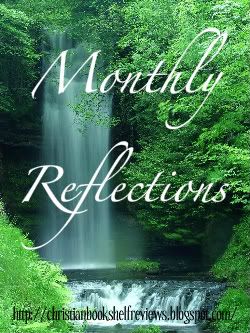 I ended up completely forgetting to do my post for November, so here it is combined with my December post. My goal for November was to read at least 6 books and I managed to exceed it! I read 9 books in the month of November!
The books were:
1. Undercover Marriage by Terri Reed
2. The Icing on the Cake by Janice Thompson
3. Christmas Cover Up by Lynette Eason
4. A November Bride by Beth Vogt
5. Airs Above The Ground by Mary Stewart
6. A Distant Melody by Sarah Sundin
7. Christmas Roses by Amanda Cabot
8. October Baby by Eric Wilson
9. Bourne by Lisa T. Bergren (Re-read)
For December I didn't have a set number of books as my goal but there were several books I wanted to get read and I managed to get to them all! Overall, I was very pleased with the amount of reading I was able to get done in the last two months!
The books I read in December were:
1. A Most Inconvenient Marriage by Regina Jennings
2. Double Crossed by Ally Carter
3. Checkmate by Steven James
4. Dangerous Passage by Lisa Harris
5. Where Treetops Glisten by Cara Putman, Sarah Sundin and Tricia Goyer
6. Tributary by Lisa T. Bergren (Re-read)
7. Deluge by Lisa T. Bergren
I absolutely loved almost all of these books so this is one time where it is impossible to choose a favorite!!!
I don't know how busy I'm going to be in January so I'm going to stick with a small goal, 5 books!